I bet you guys are all wondering who won the Rio 2 GIVEAWAY!
...........DRUM ROLL PLEASE...........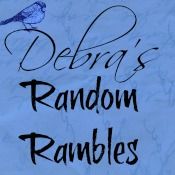 The WINNER is the owner of Debra's Random Rambles. Which is a cute and simple blog. Which seems to have all kinds of info; kinda like us. She has coupon information, book reviews, giveaways and more. I hope you stop by the blog and give the owner some lover.
Here is one of Debra's Random Rambles giveaways.