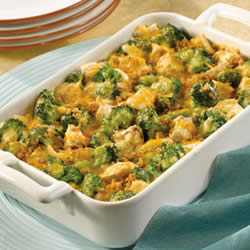 Chicken Broccoli Divan
I found this recipe in a cookbook a friend gave me. I did change the recipe some, since I had 1 can of each Cream Of Chicken Soup and Cream Of Mushroom Soup. So instead of using 2 cans of Cream Of Chicken Soup I used one of each. I
also used less Mayo, and no lemon juice.
I did use this recipe as a swap meal. Meal meaning I made enough for 2 friends and 1 for my self to freeze and take out as we needed them during the month. My friends also made me 2 different meals each. For the swap. So basically I made 2 meals that would freeze well, but tripled. My friends did the same, and in doing so we each had 6 meals in our freezers to use on those days we know we will get home late or be running around a lot. You know those days, soccer football, baseball, dance, and or church.
I baked mine with a side of Egg Noodle, and Brown Rice. Totally in love with this casserole with the Egg Noodle. I think next time I might add the Egg Noodle to the meal. I may even add fresh Mushrooms, and even some French's Fried Onion on top to help give it a little more crunch! MMMmm I'm getting hungry thinking about it!
Chicken Broccoli Divan
2 Cups give or take left over chicken
1 pound of Frozen Broccoli
1 10 3/4 can Cream Of Chicken Soup
1 10 3/4 can Cream Of Mushroom Soup
1/2 cup Mayonnaise
1/2 cup shredded Cheese and some to top when baking
Mix all the above ingredients together or layer broccoli, then the chicken. Mix both canned soups and Mayonnaise together. pour over the chicken, then top with cheese. Bake 350 for 30-45 min.
[inlinkz id = 2]