Thank you to I Am A Reader, Not A Writer & Rachelle's Writing Spot for hositng this Giveaway Hop!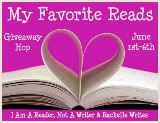 I am giving away  a couple of books. Not sure what ones just yet. I do know it will be from 1 or 3 of the following authors.











and or maybe a few author or two, I might even let you pick our YOUR FAVORITE AUTHOR.



GOOD LUCK!
a Rafflecopter giveaway